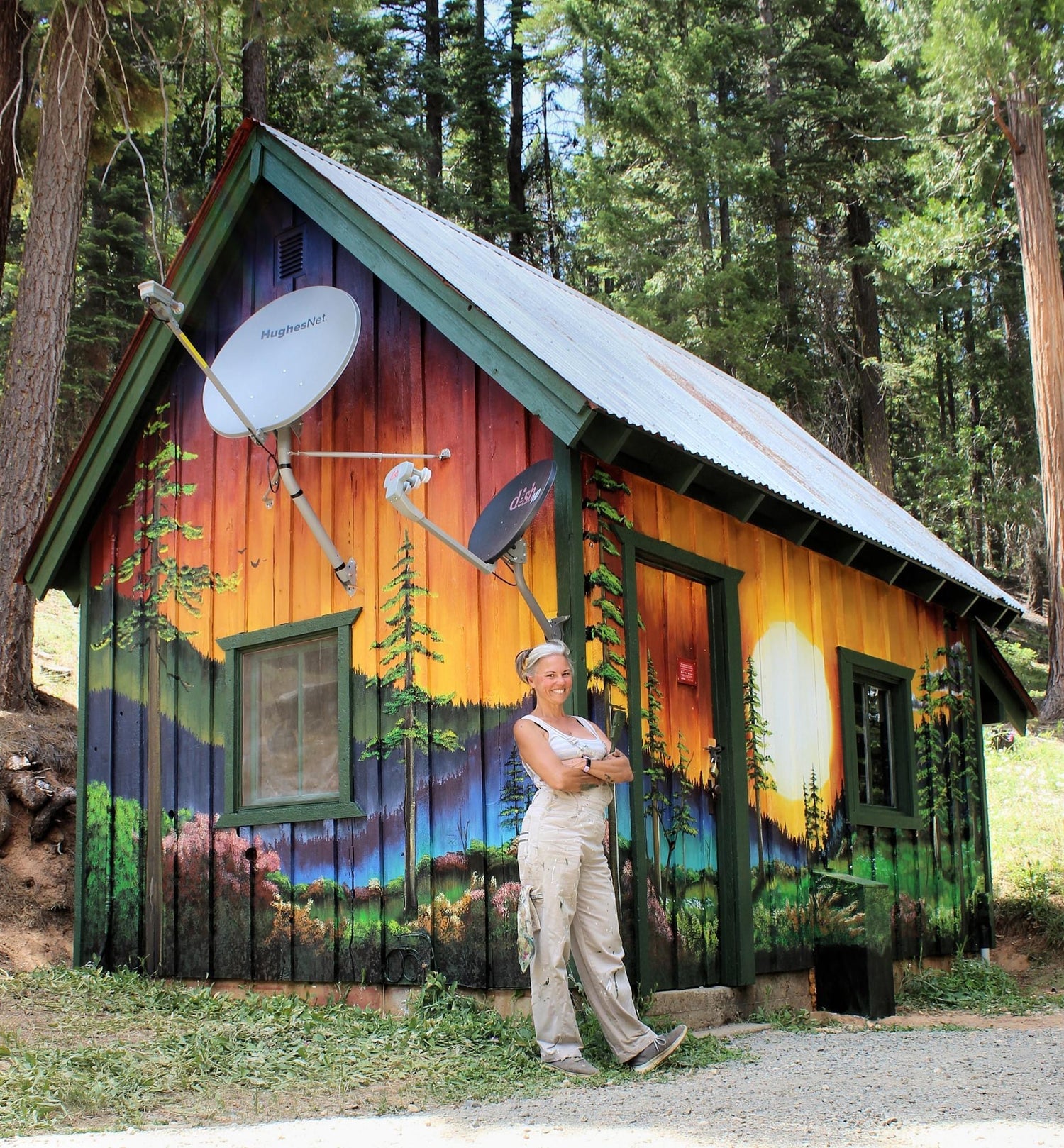 "Sunset Shed" Quincy-LaPorte, CA
This is the first mural project that helped to launch Hollyhox Painting, during the summer of 2020.  These bold, bright colors have become the main palette that I use in many of my murals.  This scene incorporates the surrounding scenery and a nearby meadow.
"Bear Boulder" Sloat, CA
I'd painted garden rocks before, but this 2.5 ton boulder was a first for me.  It took some research and testing to find the right products to prepare, paint and seal this mural near the Middle Fork of the Feather River so that it would withstand the elements.
Heart Root Yoga Studio, Blairsden, CA
Using colors from my favorite palette, I was able to explore an organic pattern with elements influenced by Thai and Indian design.  This flowing mural represents the energy and beauty in all of us as we take care of our minds and bodies.
"Elsbeth's Garden", Meadow Valley, CA
This mural has fooled the local wildlife into approaching hopefully, only to turn around, disappointed, as evidenced by tracks in the snow.  It was inspired by a European castle garden that featured a painting on a door of a disappearing walkway.  I incorporated blooms from the surrounding garden into the design to add color year round to this quaint little shed.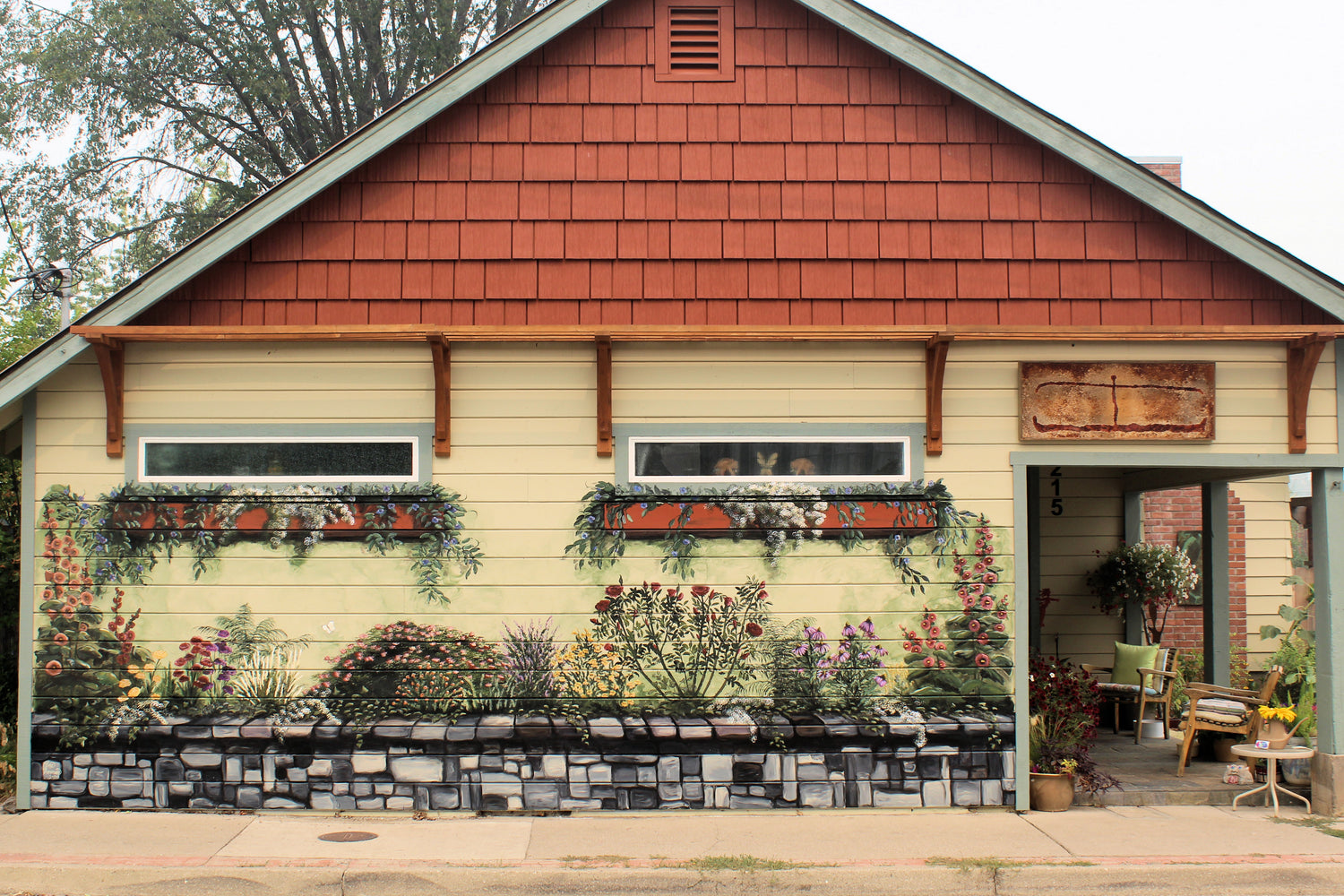 "Averil's Garden", Quincy, CA
The owner of this home longed to place window boxes and garden beds in front of this wide expanse of blank wall, but did not have the space with the sidewalk so close.  So I painted them on!  I used perspective lines on the rock wall and window boxes to give the illusion that you could pause on your walk and sit for a spell among the flowers.
"Feather River Mural", Quincy, CA
This mural began as a small project that was only going to take up a portion of this wall.  Midway through, the owner asked if I could expand it to fill the entire surface.  With a shortage of paint colors at the time, I had to get creative with my palette.  The scene is inspired by the Feather River Canyon and the recreation that many enjoy along the river's path.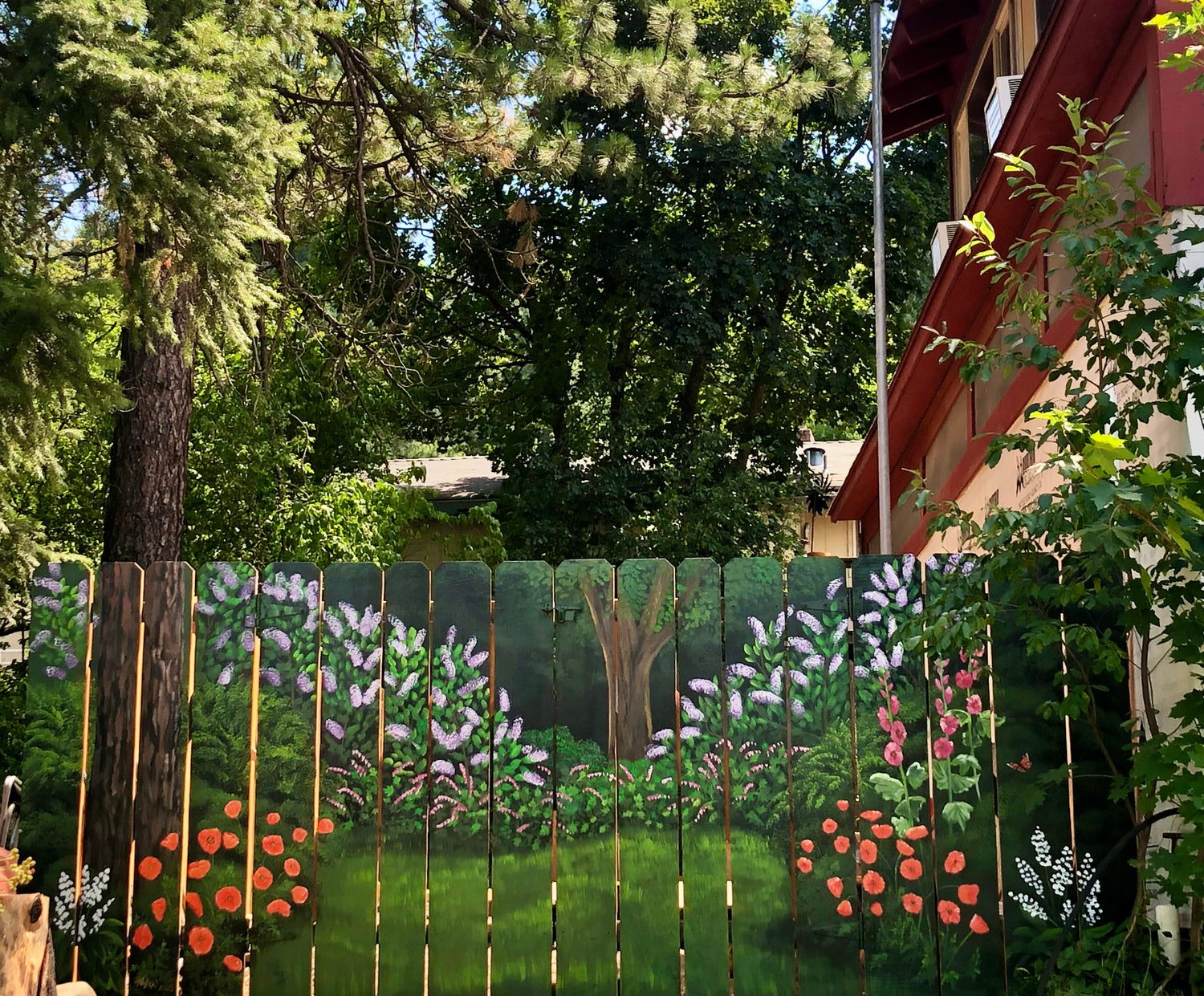 "Beyond the Fence", Quincy, CA
This mural was created to camouflage a fence in a front yard. When passersby stand in the right spot at the road, the trees in the background match up in the mural to give the illusion that there is no fence at all.  The flowers from the yard were also incorporated into the design. 
Want to add some magic to a space or building of your own? Let's talk about your vision!